Regular price
Rs. 8,795.00
Regular price
Rs. 14,371.00
Sale price
Rs. 8,795.00
Unit price
per
Sale
Sold out
Free Home Delivery All Over India

Secure Payments

100% Genuine Product
This gorgeous Unisex bicycle is designed for speed and has an adequate comfort quotient. It has a 7-speed gear-train that provides great versatility for long-range rides & steep inclines with dual disc brakes that offer unmatched safety performance. It is our bestselling model for metropolitan riders within height 5'5"-6'1"
Bicycle Overview
Design -

Gorgeous Steel strong Unisex frame with highlighting wheels make you stand apart. Always.

Comfort over Style & Performance - This is not a performance bicycle. This one is tailor made for people who prefer comfort over show offs, practicality over numbers. Perhaps thats the reason why it is so popular among senior citizens & women.

Light but Strong - Efficient geometry & tube design makes it the most practical bicycle in its segment with the sturdiness of steel.
26 x 3 inch tires are built to go on any kind of roads & provide unmatched ride comfort.

Dual Disc Brakes give superior braking performance and safety to the ride.

Adjustable seat height & handle height give the perfect riding posture for kids, adults (men, women), and senior citizens.


Payment Choices
EMI Options Available
Secure payments by credit/debit cards, net banking, UPI, Wallet
SSL certificate for Safety Assurance
Delivery Process
Free Delivery (worth ₹1500) to more than 20,000+ pin codes.
All OMO Bikes are made to order & have a waiting period. This means it usually takes 2-3 days to ship a new bicycle order from a central facility in Haryana.
Once the order is shipped, tracking ID is shared via mail & SMS.

Delivery Time

Tier 1 Cities North Zone - 3-4 Days from day of dispatch

Tier 1 Cities East / West Zone & Tier 2 cities of North Zone : 5-6 Days from day of dispatch

Tier 1 Cities South Zone and Tier 2 cities of East / West Zone: 7-10 days from day of dispatch

Tier 2 cities of South Zone - 10-14 days from day of dispatch
Packaging, Assembly Information
Accessories (worth ₹900) included in the box.
Rotatory bell
Cable lock
Mudguards
Side stand

Tools to assemble the bicycle

Riding Bag

Assembly Manual

85% pre-assembled in box (DIY style assembly + professional tuning of brakes/gears is needed)
20 Checkpoint Packaging in 7-ply strong Box.

Assembly Manual Instructions & Tools included in the box.
Warranty & Customer Support
Hassle-Free 30 Day Part Replacement Warranty
2 Year Warranty on Frame & Fork
24x7 Support via an online ticketing system (best in the industry)
About Company
Gorgeous Urban Bicycles Build By Passionate Cyclists & Engineers
Proudly Made in India
Bestselling Bicycles on Amazon & Flipkart
Ride with Riders
Follow Us & Ride with Thousands of #omobikes riders
Share your rides & get featured on our website & channels
Maintenance, Servicing & Repair
Bicycles, just like any other machine need timely servicing to make sure it rides great every time. For best performance, we recommend the following schedule

Initial 30 Days

Self DIY assembly + Brake / Gear Tune Up by professional mechanic to ensure you have a safe ride from day 1.

1 month check up, to make sure all moving parts have set in perfectly & working the way they are meant to be
After first 30 Days

Monthly cleaning & greasing at home will ensure your cycle lasts long & rides great.

Professional checkup servicing every 6 months is recommended to keep a check on the wear & tear of moving parts.
Note: OMO Bikes does not provide any onsite servicing or assembly services.
Technical Specifications
Frame

High Tensile Light Weight UNISEX design Steel

Rims

Dual Tone Double Wall Alloy Wheels

Weight
15.5 kg

Tires

26 x 3.00"

(for smooth rides)

Pedals




Black Alloy Pedals

Brakes

Front + Rear Dual Disc Brakes

Seat

Selle Mio Super Saddle

Seat Height

6" adjust with Quick release

Handle Bar

Rider Handle Bar for City Riding

Max. Weight

105 kg

Rider Height

5'6" to 6'1"

Ideal for

City Usage & OutdoorUsage for upto 20km daily

Gears

Single Speed


Center Axle
Sealed BB Cartridge Kenli
Comparing With Other Popular Models
Model 1.0
Hampi 707
Model 1.7

Single Speed
7 Speed




7 Speed




5'2" to 5'6"

Height

5'6" to 6'1"

Height

5'2" to 5'6"

Height

Weight

13.5 kg

Weight

13.95 kg

Weight

13.95 kg

Tires

26" x 1.95"

Tires

700c*35 (29"x1.2")

Tires

26" x 1.95"




Power V Brakes

Dual Disc Brakes

Power V Brakes
upto 15km daily in city
+15km daily in city

+15km daily in city
Delivery in 7-9 Days All over India

All bicycles are made to order & takes 7-9 days to get delivered. In case of special customisations, this time may increase.
Home Assembly Option 80+ cities

OMO Bikes offer hassle free home assembly/installation in over 80+ cities at ₹499 by trained technicians.
Easy DIY 90% assembled

All OMO Bikes are 90% assembled & can be self installed at home. Once assembled, it is recommended to get it tuned at local cycle store
Flexible Service & Warranty

All Cycles are Covered Under

1) Lifetime Warranty on Frame

2) 30 days replacement warranty on all parts from the day of delivery

Assembly tune ups, or getting services at local cycle store, do not violate the warranty of OMO Bikes.
View full details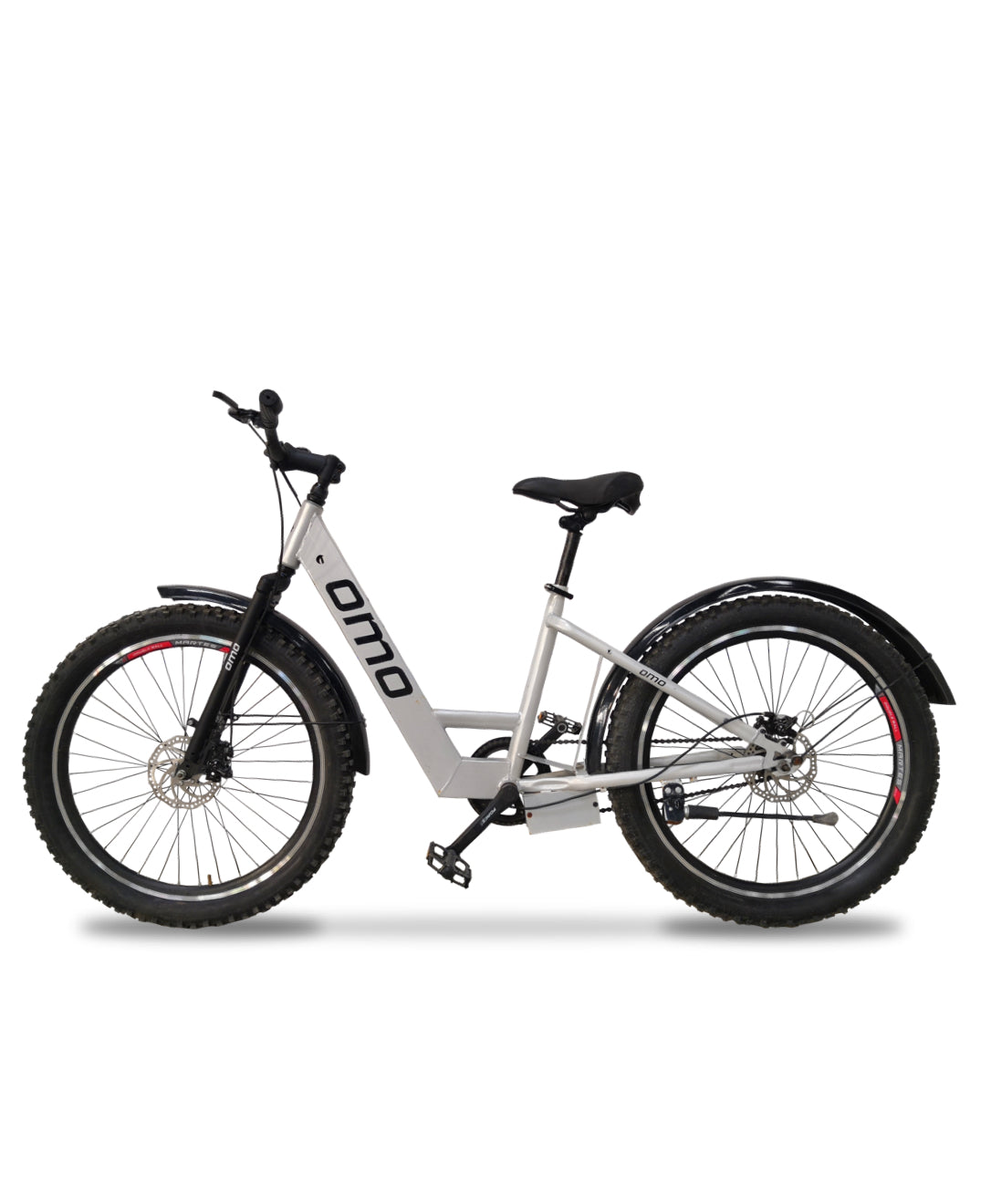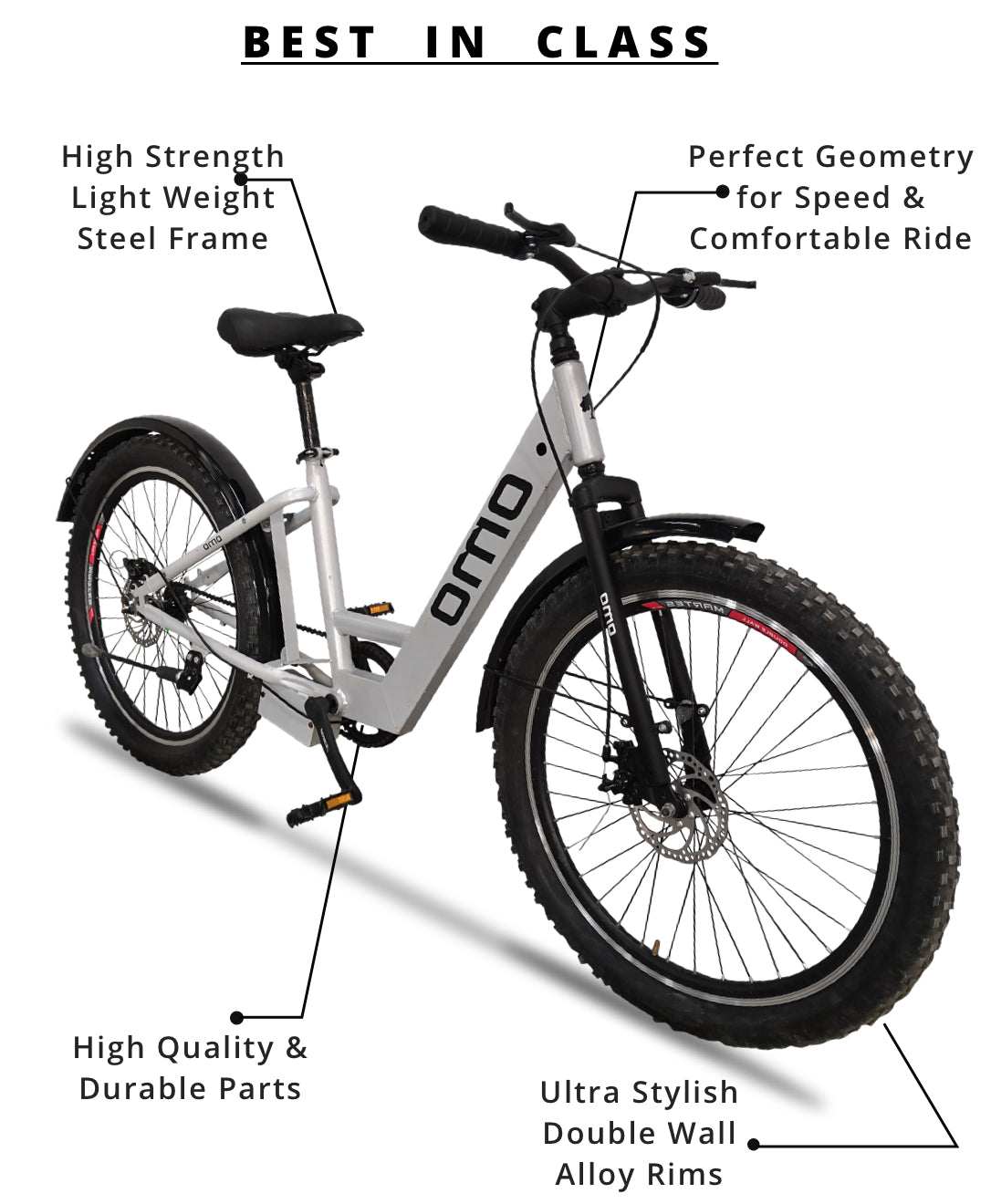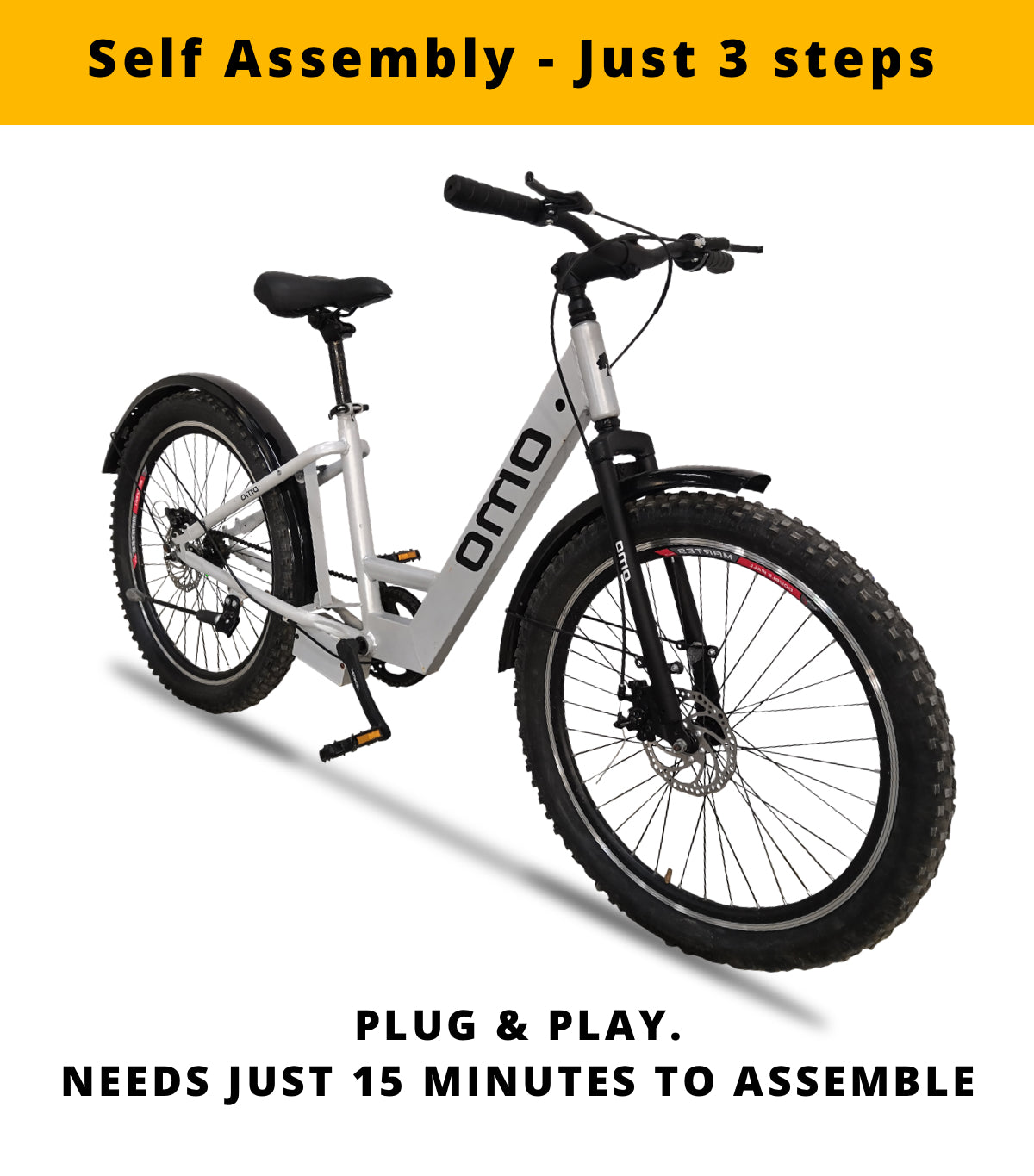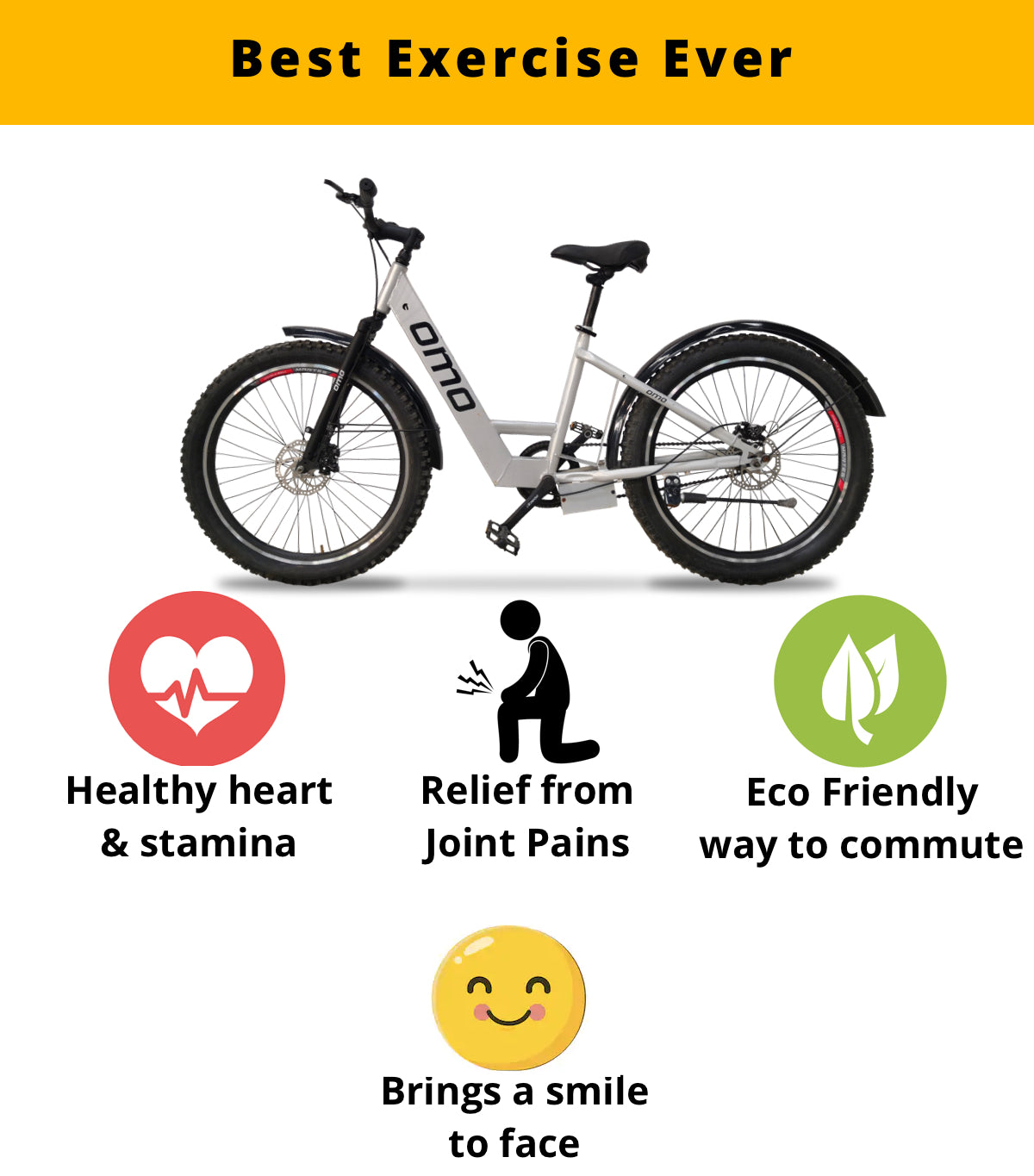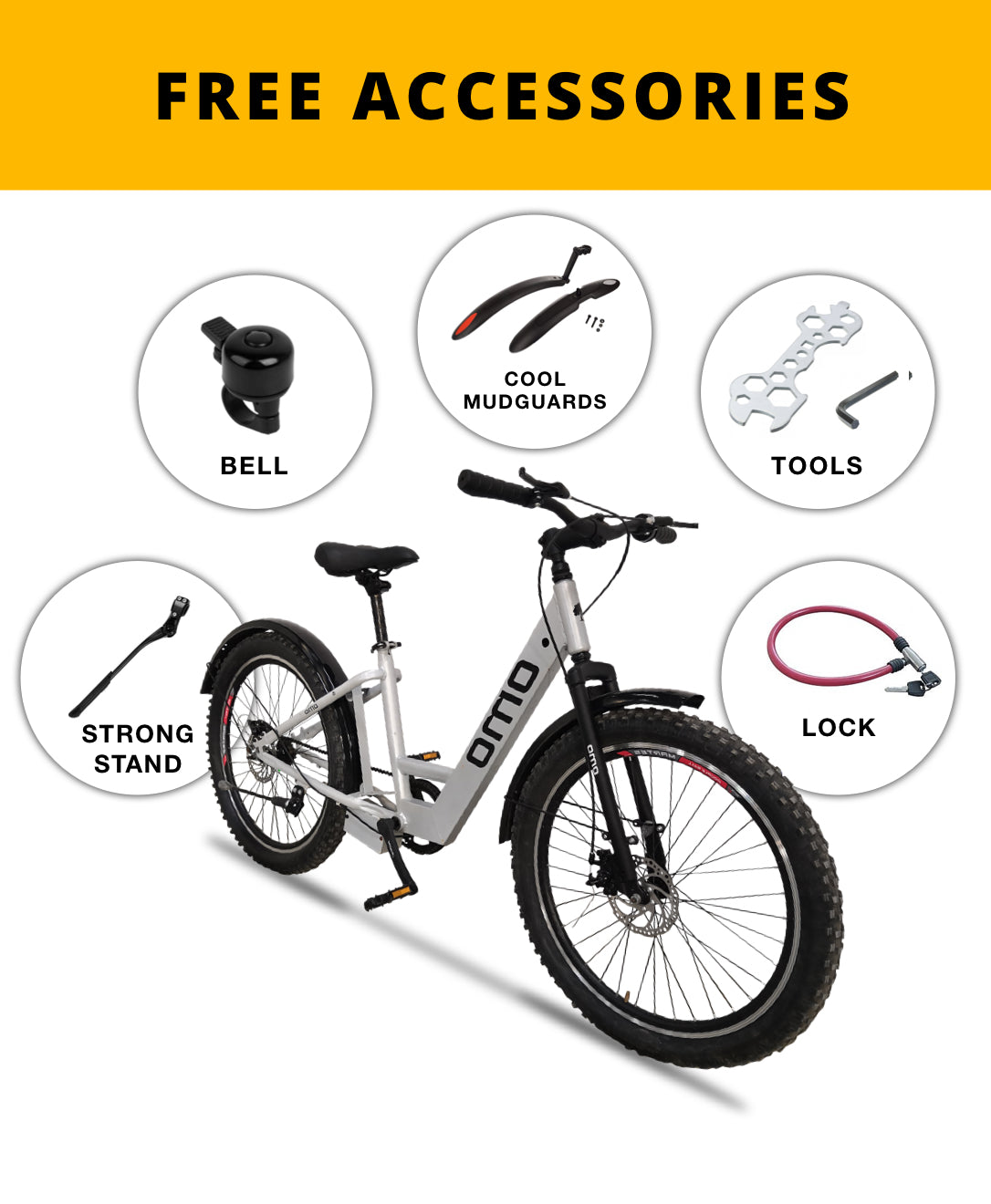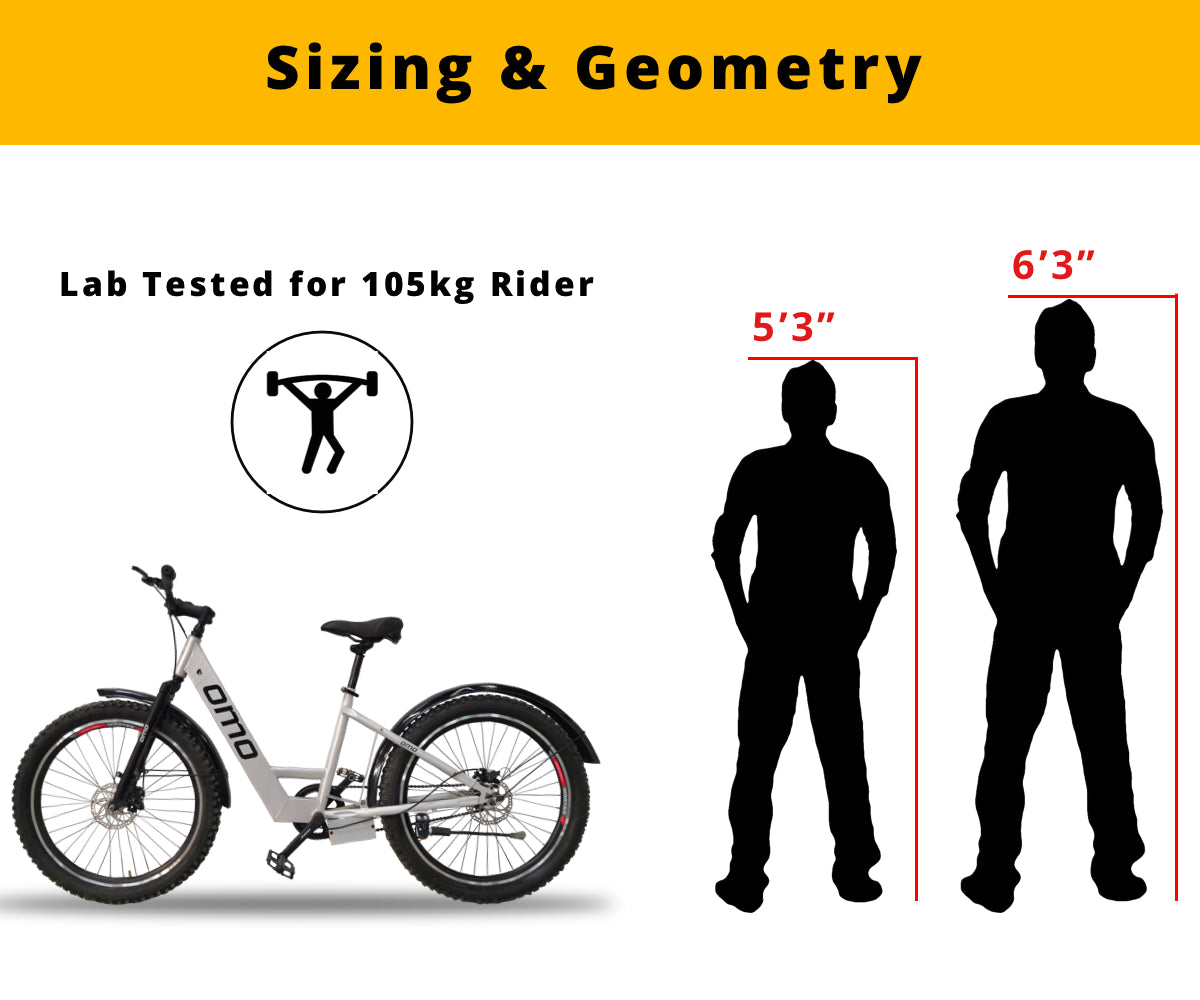 About Us

Omobikes is Startup By IIT graduates , who are passionate for cycling and want to make people ride more bicycles in India. 

Free Shipping

24 Hours Dispact and Free Shipping all Over India to 30000+ Pin codes

No Cost EMI

No cost EMI options available on Major Credit card, HDFC Debit Card and Bajaj Finance card

Warranty

2 Year Warranty on Frame.
30 Days Part Replacement warranty on all moving part after delivery

GST Benfits

Get GST Input Credits on Business Purchase

Cash on Delivery

Cash on Delivery available with prepayment of 999 and due amount on delivery to avoid misuse of COD option.